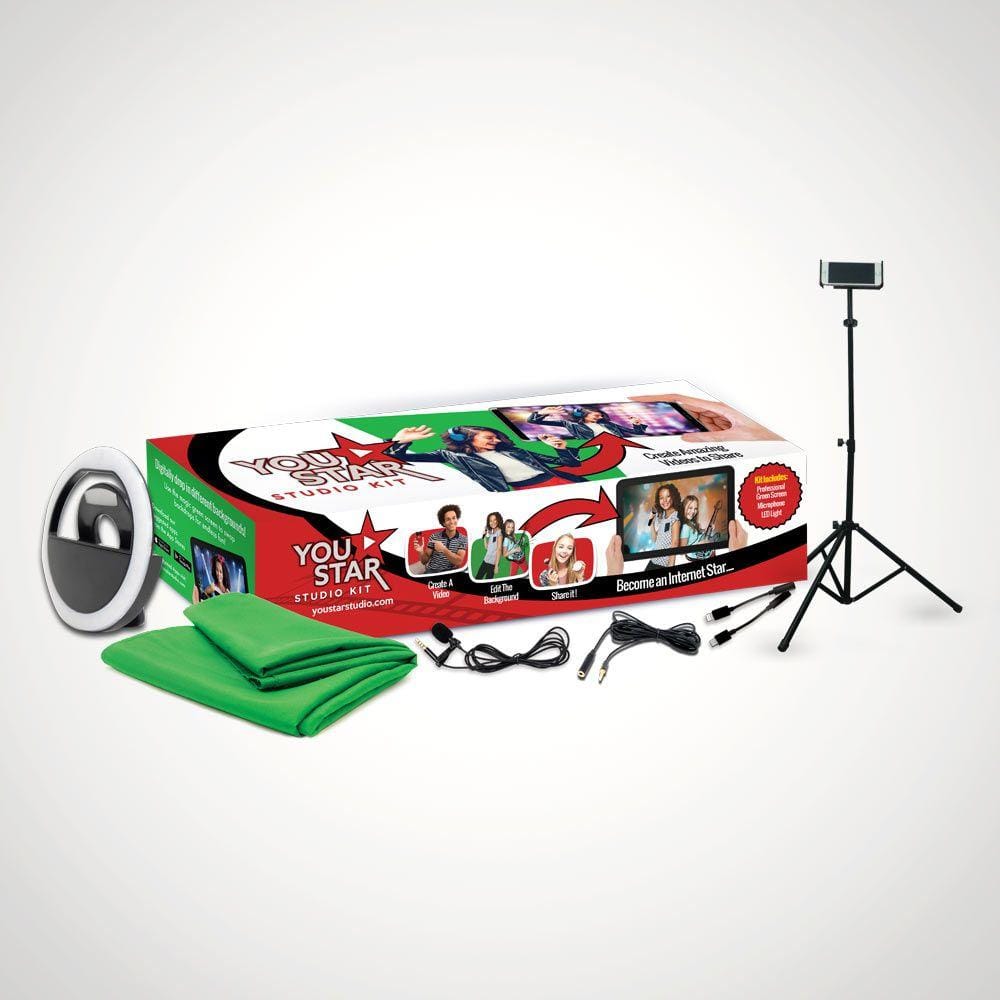 YouStar Studio Kit [Tech & Turntables]
Please note: All turntables are for delivery to Irish
addresses ONLY and will NOT dispatch internationally.
PACK INCLUDES | Lapel microphone with wind muff and extra cable, green screen, fixing clips, LED ring light, 1.2m tripod with phone/tablet holder, connector cables for iPhone / USB
PROFESSIONAL GREEN SCREEN | Green is the go-to because it doesn't match any natural skin tone or hair color, meaning no part of an actor will be edited out through chroma key
LED RING LIGHT | A ring light is a simple lighting tool that is commonly used for beauty shots, portraits, and macro photography
1.2m TRIPOD WITH DEVICE HOLDER | A portable three-legged frame or stand, used as a platform for supporting the recording device. A tripod provides stability against downward forces and horizontal forces and movements about horizontal axes
LAPEL MICROPHONE AND CLIP | A lapel microphone or lavalier (also known as a lav, lapel mic, clip mic, body mic, collar mic, neck mic or personal mic) is a small microphone used for television, theatre, and public speaking applications in order to allow for hands-free operation
This product is: out-of-stock
In-stock: 90% of orders are dispatched within 24 hours of purchase. Please see our shipping timetable here.
Out of stock: Enter your email address on the product page and we will notify you once the title is back in stock.
Pre-Order: will be dispatched upon the title release date.
Special Order: will take up to 3 weeks to source and dispatch.
If your order contains multiple types of product (e.g: an 'in-stock' item and a 'pre-order' item), the entire order will be held for dispatch until the Pre-Order release date or the 3 week Special Order window has elapsed, whichever is longer.
Please note: To avoid any unwanted delays, please order separately.