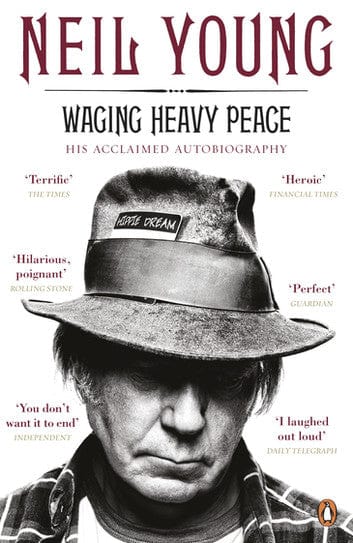 WAGING HEAVY PEACE HIS ACCLAIMED AUTOBIO - NEIL YOUNG [BOOK]
Waging Heavy Peace is the remarkable memoir of rock icon Neil Young
Neil Young is a singular figure in the history of rock and pop culture in the last four decades, inducted not once but twice into the Rock and Roll Hall of Fame.
Reflective, insightful and disarmingly honest, Waging Heavy Peace is his long-awaited memoir. From his youth in Canada to his crazy journey out to California, through Buffalo Springfield and Crosby, Stills & Nash, to his massively successful solo career and his re-emergence as the patron saint of grunge on to his role today as one of the last uncompromised and uncompromising survivors of rock 'n' roll - this is Neil's story told in his own words.
Young presents a kaleidoscopic view of personal life and musical creativity; it's a journey that spans the snows of Ontario to the LSD-laden boulevards of 1966 Los Angeles to the contemplative paradise of Hawaii today. Along the way he writes about the music, the victims, the girls and the drugs; about his happy family life but also about the health problems he and his children have experienced; about guitars, cars and sound systems; about Canada and California and Hawaii. Candid, witty and revealing, this book takes its place beside the classic memoirs of Bob Dylan and Keith Richards.
'Wryly funny, deeply moving, painfully honest' Guardian
'He's talking to you, not at you, unravelling himself as well, and you don't want it to end . . . You see rock and roll history from the inside out, and in the present tense' Independent
'Young appears bounteous and joyful, a genuinely happy hippy . . . Unusually for a rock memoir, this one is almost completely angst-free' Sunday Times
'Dryly hilarious . . . poignant . . . Waging Heavy Peace shows that Young is still in full possession of that stubborn, brilliant, one-of-a-kind instrument' Rolling Stone
'A real treat . . . he writes openly and movingly abut the key figures in his life...you feel you know Young better for reading it' Metro
This product is: out-of-stock
In-stock: 90% of orders are dispatched within 24 hours of purchase. Please see our shipping timetable here.
Out of stock: Enter your email address on the product page and we will notify you once the title is back in stock.
Pre-Order: will be dispatched upon the title release date.
Special Order: will take up to 3 weeks to source and dispatch.
If your order contains multiple types of product (e.g: an 'in-stock' item and a 'pre-order' item), the entire order will be held for dispatch until the Pre-Order release date or the 3 week Special Order window has elapsed, whichever is longer.
Please note: To avoid any unwanted delays, please order separately.