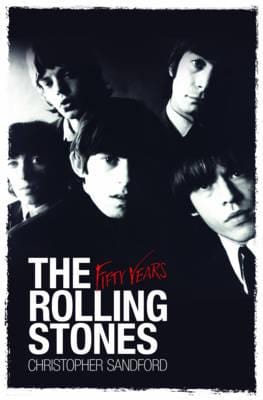 THE ROLLING STONES FIFTY YEPA - CHRISTOPHER SANDFORD [BOOK]
In 1962 Mick Jagger was a bright, well-scrubbed boy (planning a career in the civil service), while Keith Richards was learning how to smoke and to swivel a six-shooter. Add the mercurial Brian Jones (who'd been effectively run out of Cheltenham for theft, multiple impregnations and playing blues guitar) and the wryly opinionated Bill Wyman and Charlie Watts, and the potential was obvious. During the 1960s and 70s the Rolling Stones were the polarising figures in Britain, admired in some quarters for their flamboyance, creativity and salacious lifestyles, and reviled elsewhere for the same reasons. Confidently expected never to reach 30 they are now approaching their seventies and, in 2012, will have been together for 50 years. In The Rolling Stones, Christopher Sandford tells thehuman drama at the centre of the Rolling Stones story. Sandford has carried out interviews with those close to the Stones, family members (including Mick's parents), the group's fans and contemporaries - even examined their previously unreleased FBI files. Like no other book before The Rolling Stoneswill make sense of the rich brew of clever invention and opportunism, of talent, good fortune, insecurity, self-destructiveness, and of drugs, sex and other excess, that made the Stones who they are.
This product is: in-stock
In-stock: 90% of orders are dispatched within 24 hours of purchase. Please see our shipping timetable here.
Out of stock: Enter your email address on the product page and we will notify you once the title is back in stock.
Pre-Order: will be dispatched upon the title release date.
Special Order: will take up to 3 weeks to source and dispatch.
If your order contains multiple types of product (e.g: an 'in-stock' item and a 'pre-order' item), the entire order will be held for dispatch until the Pre-Order release date or the 3 week Special Order window has elapsed, whichever is longer.
Please note: To avoid any unwanted delays, please order separately.