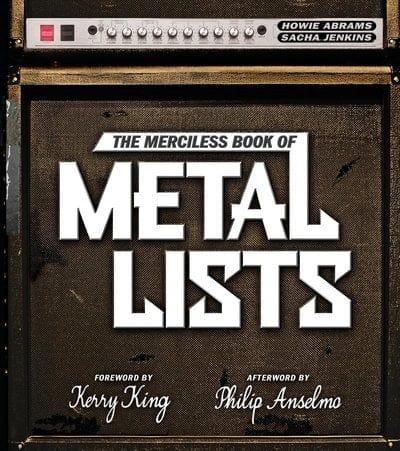 The merciless book of metal lists - Howie Abrams [BOOK]
Howie Abrams is a former record label owner and longtime A&R and music marketing guy. Sacha Jenkins started the influential 90's era subculture magazine, Ego Trip; is a former music editor; and has produced shows for MTV. Both guys love their hard rock and The Merciless Book of Metal Lists is their irreverent and illuminating tribute full of some of the most random, funny and challenging information about heavy metal music from the last 40 years. You want to know who are the fattest or shortest metal musicians? Interested in what Judas Priest's Rob Halford was really saying with his lyrics now that he's come out as a gay man? Dying to know which 250 album covers look like they were drawn by epileptic 4 year olds? Look no further. Howie and Sacha will also reveal their choices for non-Metal bands that Metalheads love, the weirdest cameos in Metal videos, the sad history of Rap Metal and the unfortunate original names Metal bands started with. Also featuring interviews, short essays, iconic 4 colour photography, and memorabilia from fans and band members alike.


This product is: out-of-stock
In-stock: 90% of orders are dispatched within 24 hours of purchase. Please see our shipping timetable here.
Out of stock: Enter your email address on the product page and we will notify you once the title is back in stock.
Pre-Order: will be dispatched upon the title release date.
Special Order: will take up to 3 weeks to source and dispatch.
If your order contains multiple types of product (e.g: an 'in-stock' item and a 'pre-order' item), the entire order will be held for dispatch until the Pre-Order release date or the 3 week Special Order window has elapsed, whichever is longer.
Please note: To avoid any unwanted delays, please order separately.