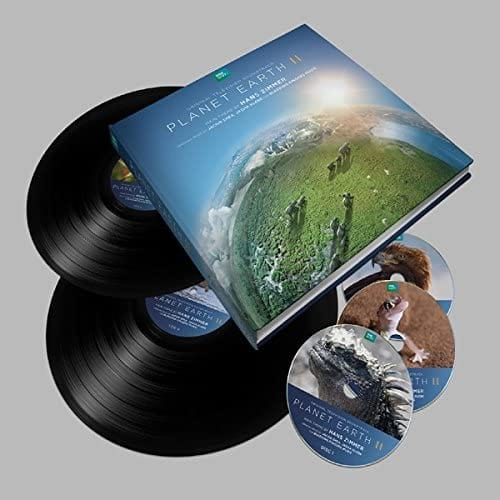 PLANET EARTH II - HANS ZIMMER [Vinyl]
When BBC's Planet Earth appeared on television screens worldwide over a decade ago it transformed how viewers saw their planet. Capturing a global audience of over half a billion people it gave an unprecedented view of life on Planet Earth. In November 2016, this fascinating subject was revisited with the incredible march of technology allowing the viewer to watch the natural world from even more perspectives, narrated as before by Sir David Attenborough.
The soundtrack from Hans Zimmer and his team leads with the composer's powerful theme to the series which reflects nature in all it's awesome power. With over 120 soundtracks to his credit which have grossed 24 billion dollars at the box office Hans Zimmer needs no introduction. His Academy Award nomination for Interstellar marked his 10th Oscar nomination, sitting alongside multiple other awards and nominations. The score composition is completed by Jacob Shea and Jasha Klebe from The Bleeding Fingers Custom Music Shop, a joint venture between Extreme Music and Hans Zimmer's RCI Global created to build a world-class Zimmer approved TV-focused roster. In this Deluxe Edition, a beautiful book containing stunning photographic stills from the series also houses three CDs, containing the original Planet Earth II released soundtrack plus a bonus disc of previously unreleased cues. Sliding neatly into the front and back covers, is a vinyl double LP of cues selected by the composers from the original 2016 CD release on sides A, B and C. Side D contains previously unreleased music.
This product is: in-stock
In-stock: 90% of orders are dispatched within 24 hours of purchase. Please see our shipping timetable here.
Out of stock: Enter your email address on the product page and we will notify you once the title is back in stock.
Pre-Order: will be dispatched upon the title release date.
Special Order: will take up to 3 weeks to source and dispatch.
If your order contains multiple types of product (e.g: an 'in-stock' item and a 'pre-order' item), the entire order will be held for dispatch until the Pre-Order release date or the 3 week Special Order window has elapsed, whichever is longer.
Please note: To avoid any unwanted delays, please order separately.