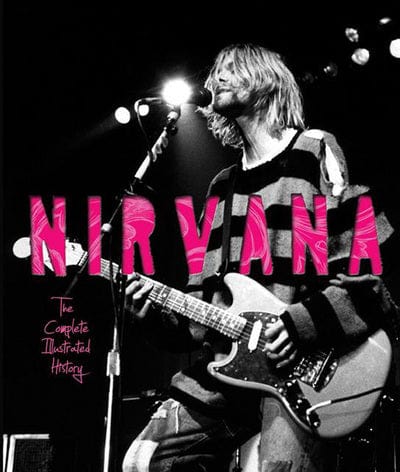 Nirvana - Charles R Cross [BOOK]
Nirvana formed in 1987, released their first LP in 1989, and unintentionally tore the music world asunder two years later with the video and single for "Smells Like Teen Spirit." At the time, MTV and rock 'n' roll in general were largely dominated by vapid hair metal acts. Nirvana, with their thrift-store clothes and pawnshop guitars, represented a much-needed return to punk-inspired rock and at the same time validated the indie rock scene that had failed to breach the mainstream in the previous decade. A meteoric rise followed, attended by all of the predictable professional and personal pitfalls. Two and half years after the release of "Teen Spirit," leader Kurt Cobain, age 27, killed himself and the ride was over.
Today, Nirvana and Cobain transcend generations, not unlike Jimi Hendrix, Jim Morrison, and other artists who met premature ends. The band's story and music fascinate kids whose parents were among Nirvana's early fans. Coinciding with the twentieth anniversary of their final LP, Nirvana: The Complete Illustrated History is the first to treat fans to a stylishly designed illustrated biography of the band. Performance and off-stage photography, handbills, singles, backstage passes, gig posters, and other memorabilia complement a narrative detailing the band's tumultuous history, as well as sidebar album reviews, gear breakdowns, and mini synopses of Cobain's 50 all-time favorite albums. Nirvana's ride was a wild one-and all too brief. Here, finally, is the book that breaks that history down and presents it from an objective perspective.
This product is: out-of-stock
In-stock: 90% of orders are dispatched within 24 hours of purchase. Please see our shipping timetable here.
Out of stock: Enter your email address on the product page and we will notify you once the title is back in stock.
Pre-Order: will be dispatched upon the title release date.
Special Order: will take up to 3 weeks to source and dispatch.
If your order contains multiple types of product (e.g: an 'in-stock' item and a 'pre-order' item), the entire order will be held for dispatch until the Pre-Order release date or the 3 week Special Order window has elapsed, whichever is longer.
Please note: To avoid any unwanted delays, please order separately.