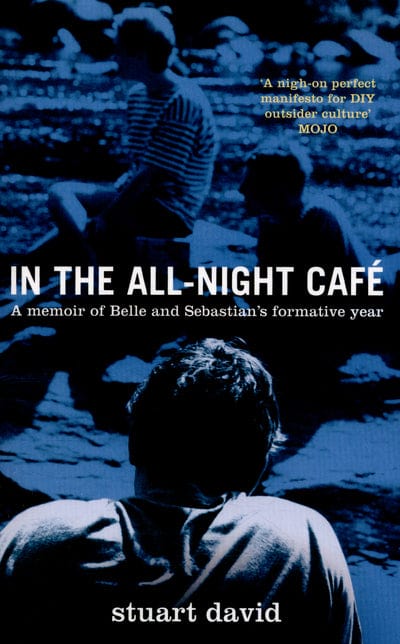 In the all-night café - Stuart David [BOOK]
One afternoon, in 1994, I had an idea.
So begins Stuart David's magical, evocative memoir about Belle and Sebastian. Determined to make his living writing stories and songs, Stuart had spent several years scraping by on the dole in his small, industrial home town. Then he had the fateful idea to learn bass guitar, and to head for Glasgow in search of like-minded artists. Within one extraordinary year he had helped create one of the most influential, beloved bands of all time.
Set against a vivid background of early 90s Glasgow, In the All-Night Café describes Stuart's fortuitous meeting with the band's co-founder Stuart Murdoch on a course for unemployed musicians. It tells of their adventures in two early incarnations of Belle and Sebastian and culminates in the recording of the band's celebrated debut album, Tigermilk.
A fascinating portrait of the group and its origins, it is also a story that will resonate with anyone who has put together - or thought of putting together - a band. It is a story of a group of friends who wanted to create a different kind of band and a different kind of music. And how - against all expectations - they succeeded.
Written with wit, affection and a novelist's observant eye, In the All-Night Café brings to life the music and the early days of this most enigmatic and intriguing of bands.
This product is: out-of-stock
In-stock: 90% of orders are dispatched within 24 hours of purchase. Please see our shipping timetable here.
Out of stock: Enter your email address on the product page and we will notify you once the title is back in stock.
Pre-Order: will be dispatched upon the title release date.
Special Order: will take up to 3 weeks to source and dispatch.
If your order contains multiple types of product (e.g: an 'in-stock' item and a 'pre-order' item), the entire order will be held for dispatch until the Pre-Order release date or the 3 week Special Order window has elapsed, whichever is longer.
Please note: To avoid any unwanted delays, please order separately.