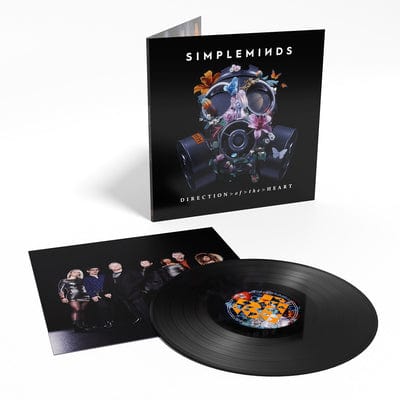 Direction of the Heart: - Simple Minds [VINYL]
This item is available for PRE-ORDER only and
will not be dispatched until official release date.

If you have other items in this order they will ALL be
held until latest pre-order release date.
To avoid this delay, please order released titles separately.
'Direction of the Heart' is Simple Minds' first album of new material since 2018's outstanding UK Top 5 album 'Walk Between Worlds'. Throughout its nine tracks, 'Direction of the Heart' finds the band at their most confident, anthemic best on an inspired celebration of life, and which manages to perfectly encapsulate the essence of past and present Simple Minds, a band whose reascent over the past ten years has seen them, once again, capture the magic and critical praise of their early days.

Disc 1
1. Vision Thing - Simple Minds
2. First You Jump - Simple Minds
3. Human Traffic - Simple Minds
4. Who Killed Truth? - Simple Minds
5. Solstice Kiss - Simple Minds
6. Act of Love - Simple Minds
7. Natural - Simple Minds
8. Planet Zero - Simple Minds
9. The Walls Came Down - Simple Minds



This product is: pre-order
In-stock: 90% of orders are dispatched within 24 hours of purchase. Please see our shipping timetable here.
Out of stock: Enter your email address on the product page and we will notify you once the title is back in stock.
Pre-Order: will be dispatched upon the title release date.
Special Order: will take up to 3 weeks to source and dispatch.
If your order contains multiple types of product (e.g: an 'in-stock' item and a 'pre-order' item), the entire order will be held for dispatch until the Pre-Order release date or the 3 week Special Order window has elapsed, whichever is longer.
Please note: To avoid any unwanted delays, please order separately.