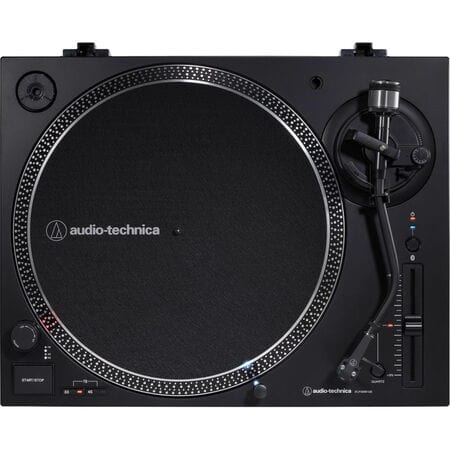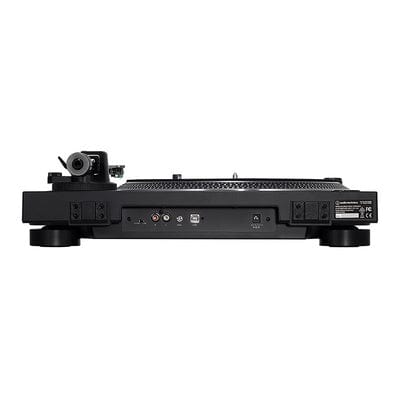 Audio-Technica AT-LP120XBTUSB Bluetooth Direct Drive Turntable (Black) [Tech & Turntables]
Please note: All turntables are for delivery to Irish
addresses ONLY and will NOT dispatch internationally.
The LP120xBTUSB features a new DC servo direct-drive motor, along with adjustable dynamic anti-skate control and selectable phono preamplifier. The fully manual turntable plays 33-1/3, 45, and 78 RPM records, includes the convenience of Bluetooth wireless connectivity and is equipped with a USB output that allows direct connection to your computer. Just download the free Mac- and PC-compatible Audacity recording software (or software of your choice) and start converting your records to digital audio files. In addition to the USB output and Bluetooth connectivity, the turntable also comes with a detachable dual RCA output cable and is equipped with a built-in selectable phono preamp so you can connect directly to your home stereo, whether it has a dedicated phono input or not.
Product Features
• Direct-drive, DC servo motor.

• Adjustable dynamic anti-skate control.

• Selectable 33/45/78 RPM speeds.

• Anti-resonance, die-cast aluminum platter with felt mat.

• AT-VM95E cartridge is compatible with any VM95 Series replacement stylus, offering a wide choice of options for every budget and application.

• Connects wirelessly to speakers and other devices equipped with Bluetooth wireless technology or to wired audio systems and powered speakers via included dual RCA output cable.

• Removable plug-type target light for easier cueing in low light.

• Damped base construction for reduced low-frequency feedback coloration.

• Convert your vinyl records to digital audio files by downloading and using the free Mac- and PC- compatible Audacity recording software (or software of your choice).
This product is: in-stock
In-stock: 90% of orders are dispatched within 24 hours of purchase. Please see our shipping timetable here.
Out of stock: Enter your email address on the product page and we will notify you once the title is back in stock.
Pre-Order: will be dispatched upon the title release date.
Special Order: will take up to 3 weeks to source and dispatch.
If your order contains multiple types of product (e.g: an 'in-stock' item and a 'pre-order' item), the entire order will be held for dispatch until the Pre-Order release date or the 3 week Special Order window has elapsed, whichever is longer.
Please note: To avoid any unwanted delays, please order separately.